It's been almost three years since we put our last dog down.
The wife and I were discussing the prospects of adding another member to the household if the doctors gave her approval.
She has medical conditions that require special treatments and trial medications, so we had to make sure that adding a furry critter into the household wasn't going to rock the boat.
So when a friend called and said his Brittany gave birth on 7/12 (my late Mothers birthday), we knew she was looking out for us.
Since all of my Brits were males with a lot of liver color, he sent a pick of the pup he knew we would want.
This is CJ, Named after my late Mom Carol Joan.
[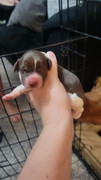 Last week .


[url][url=https://postimg.cc/DWJkW4MQ]
[/url]